This is the woman who is likely to defeat the appalling Carles Puigdemont in the Catalan regional elections on December 21st.
Her name is Ines Arrimadas and she is the leader of the Ciudadanos (Citizens) Party.
VIVA ESPAÑA!
Spain's PM sacks Catalan government after independence vote
PM Mariano Rajoy takes the decision as part of emergency measures after Catalonia's parliament votes to break away from Spain.
The Spanish Prime Minister has dissolved Catalonia's parliament and called an election for 21 December after the region declared independence.
Mariano Rajoy invoked the emergency measures in response to Catalan MPs voting to break away from the Spanish state.
He said he would seek to declare the vote illegal.
Mr Rajoy also said Catalonia's police chief will be sacked and central government departments will assume the powers of the Catalan administration.
:: UK 'will not recognise' Catalan independence
The Spanish government is shutting down Catalonia's foreign affairs department and dismissing its delegates in Brussels and Madrid.
Regional elections will now be held in Catalonia in December.
Mr Rajoy said it was important to call fresh elections to ensure "nobody can act outside the law", but added "we never wanted to come to this point".
He said the aim was to return Catalonia to "normality and legality" as soon as possible.
The move will increase tensions with separatists who celebrated in their thousands outside the Catalan government palace after the declaration was made.
They watched events inside from two giant screens as they clapped and shouted "independence" in Catalan.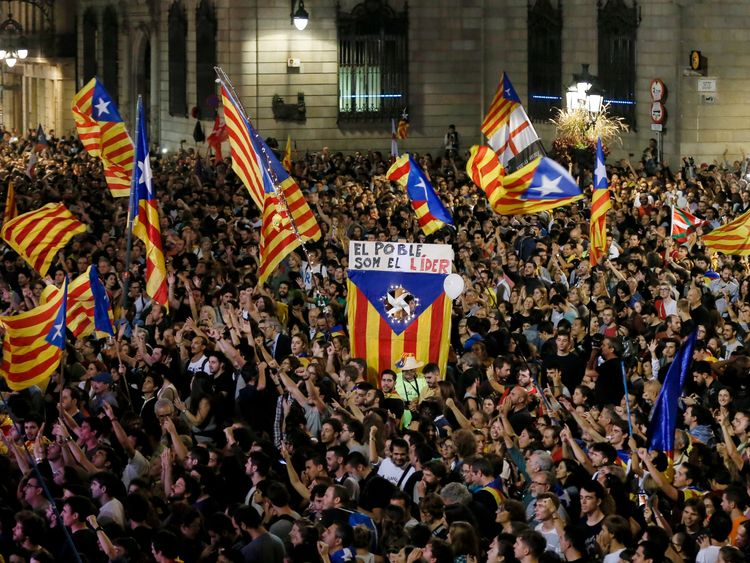 The motion, which was boycotted by opposition parties, said Catalonia was an independent, sovereign and social democratic state, and called on other countries and institutions to recognise it.
However, after the announcement from the Catalan parliament, Mr Rajoy hinted that their celebrations would be short-lived by saying they had done "something that is not possible – declare independence".
The supporters who had gathered in Sant Jaume Square in Barcelona to hear the Catalan declaration were told of Mr Rajoy's decision to sack the region's parliament.
A band took to the stage and the crowd defiantly began singing and dancing to music, shouting: "We are not moving."
Meanwhile, hundreds of anti-separatist protesters took to the streets waving Spanish flags to demonstrate against the independence declaration.
Miquel Iceta, the leader of Catalonia's Socialists, welcomed Mr Rajoy's announcement of a new election.
In a tweet, he said: "In the most sad day due to a wrong and irresponsible decision by the separatists, we see a ray of light."